Blog Post Title Goes Here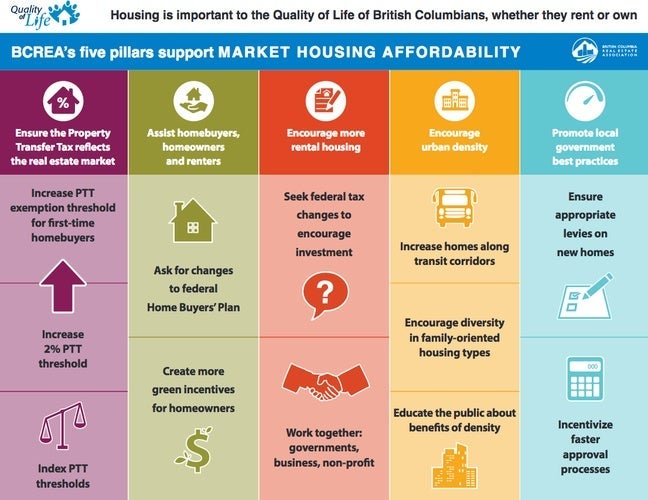 Realtors are not the problem with affordability as most people would like to believe. Most of us have concerns about rising housing prices and the reality of owning a home becoming distant and out of reach for the average consumer .
Most of us actually care strongly for our clients.
Increasing the number of homes built along transit corridors, raising the property transfer tax threshold and incentivizing faster approval processes are all necessary to improve housing affordability across the province, according to the British Columbia Real Estate Association's housing affordability plan released April 19.
Here's how the BCREA wants to address housing affordability.
The pillars include:-  ensuring the property transfer tax (PTT) reflects the market: according to the BCREA, B.C. has the highest PTT in Canada. The association proposes increasing the exemption threshold for first-time buyers and raising the 2% PTT threshold from $200,000 to $525,000;-  assisting homeowners and renters: increasing the withdrawal limit of the Home Buyers' Plan and extending its eligibility to those who relocated to secure employment;-  encouraging more rental housing: create more housing stock by allowing investment real estate sellers to recapture previously claimed depreciation and allowing a deferral of capital gains tax;-  promoting urban density: using PTT revenue to increase the number of larger (three-bedroom) homes along transit corridors in lower-density neighbourhoods and promoting public education to increase acceptance of new developments; and-  promoting local government best practices: encouraging changes in the municipal development application process, which would include reducing turnaround times for getting construction permits.BCREA CEO Robert Laing points to the idea of connecting government programs with inflation as one of the major recommendations in the plan.If you need a well informed realtor who can and will keep you informed making you a better consumer of real estate, call me at 604-809-6317 or email me at lolaoduwole@yahoo.ca
Categories
Archives

Subscribe To This Blog